Plavogue® One-Step Volumizing Hair dryer + Brush with Negative ION
Plavogue® One-Step hair dryer 
designed to distribute air quickly and evenly to dry and style hair faster with less damage and visibly more shine.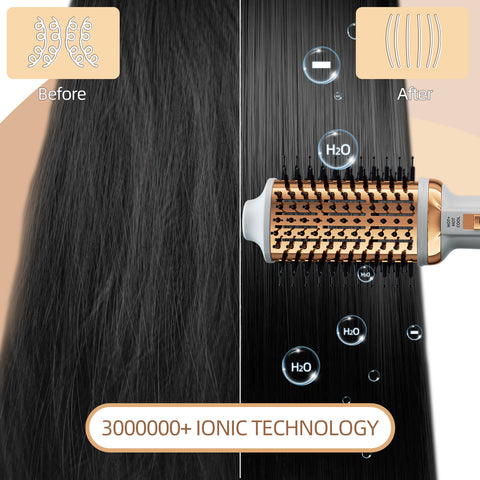 PLAVOGUE® Hair Dryer Brush is the world's first dual-voltage product of this type
Support 100V-240V, Suitable for most countries
Ideal for travel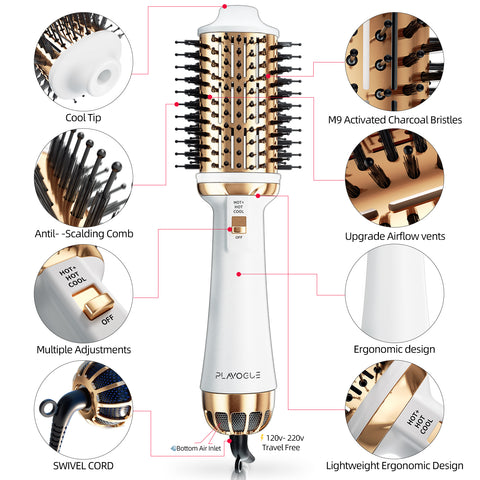 Salon long lasting Blowdries in up to half the time
The power of a dryer, the volume of a styler for more shine and long-lasting styling with fewer damages.




There is no need to juggle a brush and a hair dryer at the same time. Even blow-drying the back of your hair is simple, so you can achieve all-round salon perfect hair in up to half the time.
Full ceramic coating helps protect hair from over-styling with even heat distribution 

  

Plavogue One-Step Hair Dryer Usage Direction
Please dry your hair with towel and remove excess water before using this product.
It's recommended to start from the hair at the back and work forward to the front.
For Straightening: Place the dryer brush at the roots of your hair, brush down towards the end.
For Volumizing: Place this product near the root of your hair, hold it there for 2-3 seconds, then rotate it towards your back while brushing to the end.
You can watch the video from the main picture learning how to use.
  Return
We provide 24-months Hassle-Free Warranty.
24/7 Customer Support.
Replacements and Refunds.

Massage gun
It is very convenient tool
Practical for everyday use
Best choice ever i m gonna buy one for my mom too
Plavogue® One-Step Volumizing Hair dryer + Brush with Negative ION
Excellent product
Very useful and great product
Easy to use and will give u the best results
Perfect mate for travel
The Only Dual-Voltage Hairbrush/Dryer
I needed a dual voltage hair brush/blow dryer for my trips abroad. This is the only one I could find. It's really big and the brush is huge and it takes practice to manipulate. I wish the brush part was smaller. Maybe this company can make one that's smaller- I would buy it in a minute.
Good machine! I love it.
I was looking for good products for my hair because before I had it very mistreated, among those I have this beautiful hair dryer it straightens it easily, it is super fast and I sure feel that the hair is healthy and it is easy to handle it only has a button and the colors are beautiful the box and its precious and for me those are details that are worth it, I really recommend it